The founders of the meeting, William O. Edward, MD, and Ottiwell Wood Jones, III, MD, met during their ophthalmology residency at the University of California, San Francisco. Along with their wives, Mary Lou Edward and Elita Jones, the foursome were lifelong friends.
Bill and Ott launched the ARDS in 1973 to advance the field of retinal surgery by gathering a global group of ophthalmo­logical leaders to actively share knowledge and exchange ideas. Mary Lou and Elita provided the administrative support.
The ARDS became legendary for its in-depth coverage of subjects, lively discussion periods, and outstanding faculty. The revolutionary practices introduced so many years ago by Drs. Edward and Jones are still operational today.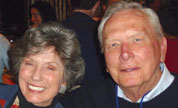 William O. Edward, MD
William O. Edward (1930-2013), known as Bill, was born August 8, 1930, in Salt Lake City, Utah. Excelling in high school, he was a member of the glee club and football team. Bill received his first academic scholarship to Yale University, earning his undergraduate degree in 1951, and his second academic scholarship to Yale School of Medicine, obtaining his MD in 1955. From 1955-1957, Bill attended the University of Utah for postgraduate internal medicine training.
Bill served in the air force as a flight surgeon at Albuquerques Kirtland Air Force Base from 1957-1958. During that time, Bill spent two summers at Indian Springs, NV, where atomic bomb testing was occurring.
Bills ophthalmology residency program was at the University of California, San Francisco from 1959-1962. In 1962, he began his private practice in Albuquerque, NM, where he continued until his retirement in 2006.
Bill was a Fellow of the American College of Surgeons, and a member of the American Academy of Ophthalmology, the Frederick C. Cordes Eye Society, and the American Society of Retina Specialists. Bill passed away on January 1, 2012.
Ottiwell Wood Jones, III, MD
Ottiwell Wood Jones, III, was born June 13, 1932, in San Francisco, California. Ott received his Bachelor of Science degree from the University of California, Berkeley in 1954, and his MD degree from the University of California, San Francisco (UCSF) Medical School in 1958.
When Ott graduated from medical school, he was selected by the faculty and his classmates to receive the prestigious Gold-Headed Cane Award for outstanding medical student achievement and representing the qualities of a true physician.
Following his internship at UCSF, Ott worked at the National Institutes of Health, National Institute of Neurological Diseases and Blindness from 1959-1961. He returned to San Francisco in 1961 to attend UCSFs ophthalmology residency program.
Ott moved to Spokane in 1964, where he established his private practice at the Spokane Eye Clinic and volunteered as a lecturer on diabetes, his subspecialty. Ott retired from private practice in 1997.
Ott was Chief of Staff at Deaconess Medical Center Spokane for three years. He is a member of the American Academy of Ophthalmology, the Frederick C. Cordes Eye Society, the American Medical Association, the Washington Academy of Eye Physicians and Surgeons, and the Spokane County Medical Society.
Early Core Organizers
Critical to the success of the ARDS meeting were Drs. Victor Curtin and Mary Lou Lewis. Functioning as the hub of an informal Organizing Committee, they played a significant role in deciding the scientific program and selecting the speakers. Because of their behind-the-scenes focus and determination from the early days through recent years, Victor and Mary Lou set the foundation on which the reputation of the ARDS was built.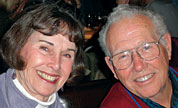 Victor T. Curtin, MD
Dr. Victor Curtin was one of the founding five physicians of the Bascom Palmer Eye Institute and in 1959, was the first faculty member hired there. He established the Institutes Pathology Laboratory and was the Florida Lions Eye Bank Founding Medical Director, responsible for providing ophthalmologists with donor eye tissue for more than 30,000 patients since its founding in 1962.
Dr. Curtin obtained his MD degree in 1953 from Harvard University. He completed his residency in 1958 at New York Hospital Medical Center of Queens, and his fellowship training at Massachusetts Eye and Ear in 1959.
Mary Lou Lewis, MD
Dr. Mary Lou Lewis role in ophthalmology is significant. She was one of the first women in retina on a national and international level. She received her early training at the University of Iowa Roy J. and Lucille A. Carver College of Medicine, receiving her MD degree in 1967. She completed her internship in 1968 at the University of Miami; her residency at San Francisco General Hospital in 1971; and completed her fellowship at the Bascom Palmer Eye Institute in 1972.